Parables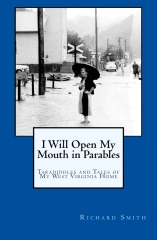 I Will Open My Mouth In Parables
I Will Open My Mouth In Parables is a collection of fictional short stories about events that take place in or near the small town of Quick, West Virginia, during the 1940's and 1950's.
The stories are written in the first person by "Richie Smith." Within each story you'll meet some wonderful people – the title of each story is based on the name of the main character. There's Joshua, the unborn child who's mother is a Disgrace; Johnny, who encounters the Devil's Assistant; Lefty, a prophet of the True Religion; Uncle Ron, who shunned the opportunity of being a Debonair; and Robby, the Prodical Peacenik come home.
"Richie" narrates the events with such realism that you may come to think that you were there, that you knew these people, and that you lived through the experience yourself.
These tales will make you laugh and make you cry, and make you wish you had known the people who appear in these true-to-life parables – if only they had been real. So while some names and places are true, the incidents and the main characters are not. Only the facts have been changed to make "Richie" into the "hero" he never was.
About the Author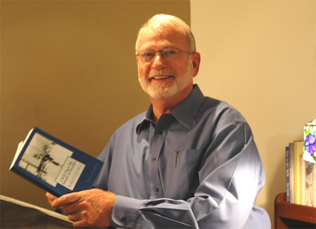 Richard Smith is a native of Quick, West Virginia, currently living in North Potomac, MD. He is owner of ScriptSmith, a media production company that specializes in Internet and video-based training for Federal government agencies.
Richard refreshes his soul at a lovely mountain hideaway in Hardy County, WV, where he spends time listening to the Muses recount outrageously fantastic taradiddles and then writing them down.
Mr. Smith's next book, "The Path to Milwaukee Runs Through Comaland," will exemplify this point.
Where to Purchase
Comaland
The Path to Milwaukee Runs Through Comaland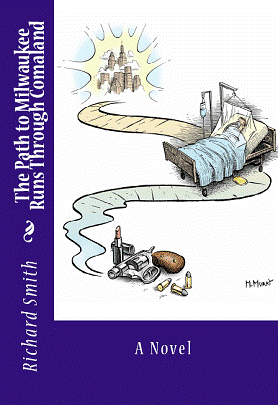 The quest for his long lost brother leads Eddie Wright on a spiritual journey to the Celestial Milwaukee. The saga begins in a 1972 Duster, stick-shift – four on the floor – a car with mystical significance.
Along the path, Eddie meets Nurse Julie, a flamboyant flaky fake who is "one gorgeous babe;" Lorena, a "Pistol-Packing Momma" who at 33 has been married 12 times with no divorces; the lovely Sondra, mauled by a miserable marriage, who is stunning in her short red Rent-A-Car uniform; a Young Nurse desperately seeking love in all the wrong places; and, of course, Paradise, a 19-year-old waitress with a propensity to smash expensive dishes when upset.
There's also Robby the Cop, an emotional cripple with a heart of gold; Martin and Marvin, twin tricksters, who try to make people believe they are – or are not – one or the other; Guru Fred, mentor of the flamboyant flaky fake; and Philip Bracken, MD, a logical rationalist who credits (or blames) his "little scientific experiments" on Eddie.
And, yes, there's our hero himself, Edward ("Mr. Right") Wright, known to four-old Justin as Spaghetti Eddie. But what can I say about Eddie? You should just read the book. And when you do you'll agree with Sondra who says, "if this is not bizarre, I don't know what is." But in the end, you'll see that Dr. Bracken is correct in his scientific analysis that "everything is working out according to the Plan of the Universe."
Join Eddie and the others on a pilgrimage to find their "true paths," and you may find a true path of your own. To Nirvana and beyond!
Almost West Virginia
Taradiddles II… More Stories of My West Virginia Home
Taradiddles II continues the saga of Quick, WV, and its residents with the true-to-life adventures of…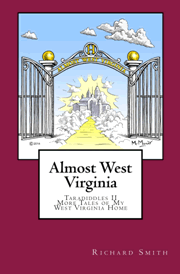 Rudy's uphill battle to overcome his innate ability to be rude to anyone at any time and in any place,
Carl's malicious act against his brother and his attempt to escape the consequences,
Speedball's race up dangerously curvy Highway 119 in his mom's 1949 Plymouth station wagon,
Lelia N. Morris' agonizing struggle to live out her mother's dream,
Genevieve's attempt to find love, only to become embroiled in Quick's second scandal in a year.
Available at selected bookstores and on Amazon in both print and Kindle Versions
What Others are Saying...
What Others are Saying…
Although the residents of Quick have a Christian worldview, these stories are humanist in the best sense. Smith looks at the conflicts that inevitably result when fallible people all try to do the right thing in their own different ways.-Rose Ciccarelli

It really is a great book – it kept me in my comfy chair for a long time. I just could not stop reading when I began a new story.–Sandy McBride

Do yourself a favor, acquire a copy and delve into these tales from those deep hollows and towering hillsides, where all that really matters is friendship, truth, and knowing where home is.–Moose Elliot

Loved the book. Could not stop until I finished each chapter. Can't wait for the next one.–Todd Kennedy

I think the story that touched my heart was "Redwing is my brother"!!!-Jeff Hanshaw

Arlie and I bought the book and Arlie has already read it. He really enjoyed it and I look forward to doing the same. Arlie doesn't read many books so this one must have been good.–Becky Thomas

As I read each story in succession I found myself growing more and more convinced that it is a book my daughter should read to help her comprehend the world I grew up in, a world so different from the world she grew up in.–H Ray Evans

I am really enjoying the stories--they're entertaining, and they still make you really think of life and all the twist and turns - actually pretty deep stuff.–Beverly Grose
Excerpts…
Joshua
It happened the year I was in the ninth grade at Quick Elementary and Junior High School, the same year that Mary Anne came to Quick to live with her Aunt Virginia. We had all heard about Mary Anne from our parents, (mostly from our mothers), or from Aunt Harriette. Mary Anne was a Disgrace. She had shamed her family, she had shamed her friends, and she had shamed herself.
Rumor had it that the baby was due about the middle of January; that as soon as it was born, it would be adopted by a childless couple from Charleston, and that Mary Anne would never be allowed to see the baby. "It'll be better for her if she never sees it," Aunt Harriette told us. "That way she won't be so attached to it."
The topic of Mary Anne's disgrace was usually the prelude to longer, more serious lectures on a series of evils from the failure to obey our parents to "running with the wrong crowd."
After hearing so much about Mary Anne, we were all eager to get a good look at her that first day, as she entered ninth grade at Quick Junior High. She dressed plainly, never smiled, and always kept her eyes down. Mary Anne bore her shame well.
Mary Anne was a little on the plump side, but not really "fat" in those days before "Twiggy" and all the thinness mania that later engulfed our society. She was not particularly attractive and she really didn't look all that pregnant. I mean, if you didn't already know, you would never have guessed.
In the spirit of small town Christian charity, we kept our distance from Mary Anne. Not because we didn't like her, but because it was traditional to keep your distance from anyone new. More than that, none of us wanted word to get home to our parents, or to Aunt Harriette, that we were seen associating with a known teenage soon-to-be unwed mother.
However, fate being as it is, it became difficult for me to escape associating with such an unsavory character. Because of the tendency of the teachers at Quick Junior High to seat people in alphabetical order and due to the fact that we were a very small ninth grade class, Mary Anne sat directly in front of me in Home Room and in all of the other classes that we attended together.
This quirk of fate won me a lot of unwanted teasing and I was always looking for ways to deflect it. I'm not trying to excuse myself, but that may be why I said what I said that started all the trouble and got me into a great deal of hot water, especially with my Aunt Harriette.
O'Tisha Meets the Governor
As we left the museum and started across the rotunda, five men came out of an office and walked across the room toward us. They moved as if they were connected. Slow or fast, left or right, not quite in step, but not quite out of step either.
It was obvious that the man in the middle of the group was the head of this strange ten legged body and everyone moved as he moved. As they came closer, stopping, starting, talking, gesturing, Grandma and I stood and watched in amazement.
Then, just as they were about to pass, the head noticed us. The whole body made a sudden lurching turn and came toward us. We didn't know whether to stand still or run.
When the thing stopped, it reformed into a single line of men with the head in the middle.
"Hello," said the important man. "Are you enjoying your visit?"
Grandma and I looked at each other and nodded, then looked at the man and nodded.
"Good," he said. "And what is your name?" he asked Grandma.
"Tish . . . Tish Smith," she said. He nodded and waited a moment, then turned to me.
"And you?"
"I'm Richie Smith."
"Oh, this is your Grandmother."
We nodded. The man talking to us looked very familiar. I even thought he might be the Governor, but I knew the Governor would never stop and talk with us.
"Where are you from?" he asked.
"Dutch Ridge," Grandma answered.
"Quick," I said at the same time.
"Oh." The man nodded and studied Grandma for a moment. "I know you," he told her. "You're O'Tisha Smith." He was thoughtful for a moment. "O'Tisha," he said to himself. "I've always thought that was such a lovely name," he said to Grandma.
I was now sure that this really was the Governor, but how could he know my Grandma?
"I met your husband once. What's his name? Edgar or Edward."
"Edwin," said my grandmother.
"That's right," announced the Governor. "I met him once. He was checking the mail. We were going to that little cemetery on the knoll by one of your fields."
Grandma was silent, but I'm sure she was wondering the same thing I was. How did the Governor of West Virginia know so much about Edwin and O'Tisha Smith?
Lefty
The following week, after watching a Popeye cartoon in silence, he turned to me and announced: "I think I've discovered something very significant."
"What?"
"Can't tell you now," he said. "It's a mystery."
The way he said "mystery," I knew something was up and that I'd have to wait until our next secret meeting at the rock cliff to find out.
"Okay," he said in a whisper as we nestled on the rock precipice. "Here's what I think." He hesitated and looked around as if to make sure no one was hiding behind a bush, listening to our conversation. "Popeye is a mystery religion."
"What?"
"Yeah. I'm sure of it."
"How?"
"Well," he said, and took a deep breath, "when Moses was in the desert talking to the burning bush which was really God, what did God say His name was?"
"Moses' name?"
"No! What did God say that His name was . . . God's name."
"I don't remember."
"Think about it. Moses said 'who will I say has sent me?' Remember that?"
"Yeah."
"And what did God say?"
"Tell them . . . tell them that 'I hath sent you?' No, wait. 'I am hath sent you.' Something like that."
"Yes, but just before that God said to Moses "I am that I am."
"Yeah. I remember that."
"Okay. And who does Popeye say that he is?"
I thought about it. "Popeye?"
"The song. Sing the song."
"Let's see. 'I'm Popeye the sailor man. I sleep in a garbage can . . . .'"
"Not that version."
"Oh. Let me think. 'I am what I am and that's all what . . . I . . . am.' Oh."
"See!"
"You think Popeye is God?"
"No. It's a mystery religion. The mystery or the secret is that Popeye represents God."
"That's dumb."
"Don't be too quick to jump to conclusions. Let's look at it some more."